Elephant Experience Khao Sok
The Elephant has been a significant part of Thai culture for centuries, and the Ethical Elephant Experience in Khao Sok is an educational adventure that will take visitors up to 2.5 hours with the gentle giants!
The journey to Thongsuk Elephant Sanctuary will take guests a short 20 minutes from Our Jungle Camp. Upon arrival, your host will brief you about the history and value of Elephants in Thai Culture, along with the general guidelines on interaction and safety to be practiced among these kind-natured creatures. Your local English speaking hosts draw from over three generations of experience, working and living with the famous Asian Elephants.
After a short briefing, you will be introduced to your thick-skinned companion. To bond with the animal thoroughly, you will prepare and feed a healthy mix of Elephant Cakes, Banana, and Pineapple, before walking your new friend to the skin-caring mudbath. Where both you and the Elephant can tend to each other's skins. After a quick shower, for you and your thick skinned comapnion, there is plenty of time for pictures. You can have a shower at the provided compartments before you wave your goodbye to your new friend and return to Our Jungle Camp in Khao Sok.
All Elephants at the Sanctuary are retired and rescued individuals from the logging and entertainment industries, who now spend their well-deserved retirement at the extensive grounds of the Elephant Sanctuary. Our Jungle Camp in Khao Sok follows a strict No Riding Policy! Despite the widespread discussion of Elephant Tourism in Thailand, we as an Eco-Tourism business, feel responsible for supporting sustainable Elephant Camps and Sanctuaries to maintain the well being of the domesticated elephant population in Thailand.
Please feel free to discuss this topic with our reception, and during your tour, for further information, please check
Our Jungle Camp´s Elephant Sanctuary FAQ and Our Jungle Camp Elephant Policy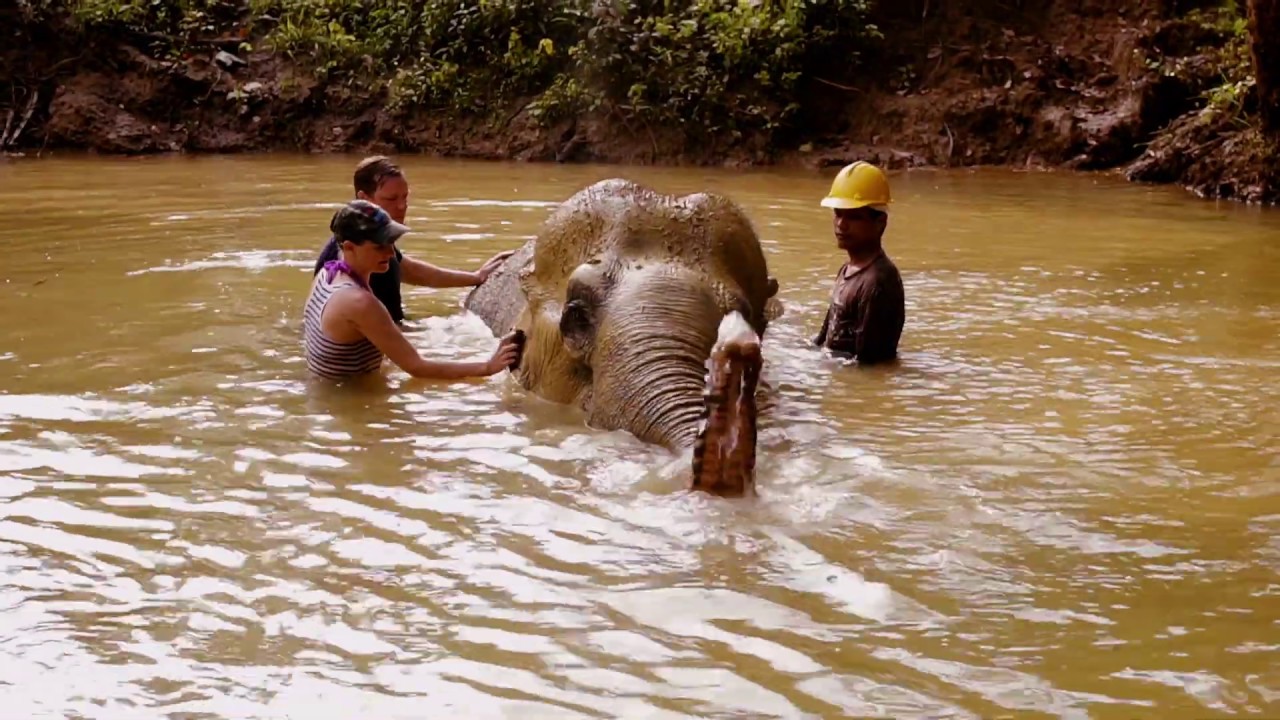 Information
Departure: 08:30 am, 12:00 pm/Noon , 15:00 pm
Duration: Half Day, approx. 2.5 hours
National Park Entrance Fees of 200THB - 100THB per Adult - Child are not included.
Taxes: Additional 7% government VAT tax will be added.
What's Included
Fruit Snack
Drinking Water
Transfers
What To Bring
Flip Flops or Water Shoes
Hat
Sunscreen
Towel (available at Reception)
Camera
Swimwear (which can get muddy)
Special Notes
Per Person - Based on minimum of 2 People
Our Jungle Camp has adopted a strong NO riding policy and further focuses on active education on the predominant issue of domesticated elephants.
Private Tours
Semi-Private Tour with a maximum of 4-6 People per Elephant if the group is related.